Okay, do you remember this candlestick from a
recent post
of mine?
When I bought it, I knew that it wasn't going to stay looking like this. Because if it was, I wouldn't have bought it! LOL
So, first thing I did was painted it bright yellow. I also sprayed it after the paint was dried with a clear sealer. It already looks better!
Then I bought these cute ceremic decorative planters and faux flowers at Michael's for 50% off. These little pots are for decoration only. They have no drainage holes for real plants. But that was okay with me because you would have to water these little suckers constantly. And I just wanted some pretty bright yard art anyway.
I glued each pot to the top of each candle holder and then did a little floral arrangement in each planter. I love the way it turned out! And it is such a fun punch of color. it really makes me smile! And by the way, it is secured into the ground. We have entirely too much wind so not secure things down!
The barrel behind it holds spearment and a strawberry plant. All of the oak barrels are filled with different kinds of mints. I love them for hot and iced tea!
I love the way it turned out! Bright, cheery and a little whimsical! Just perfect at the corner as you approach our door!
I just have to show this pretty little miniture rose bush. Why you ask? Because on Valentines Day Troy buys me a miniture rose plant and then we hope it last long enough to plant it in the Spring. And I am happy to report, it is doing wonderfully!
Oh, and a great big thank you to
Holly
for having me as one of her featured blogs today!
Now, join me at these fun parties!
Tickled Pink Friday
Yard Art on Thursdays
Friday~~Finding Beauty
Fertilizer Friday
Show and Tell Friday
Lovin' it Fridays
Favorite Things Friday
Hodgepodge Friday
And I am joining Miss Donna at
Funky Junk
for her
Saturday Nite Special
and.....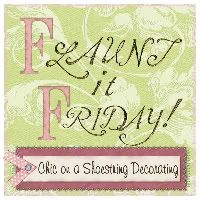 The CSI Project